Oregano Herbs & Mushroom Rice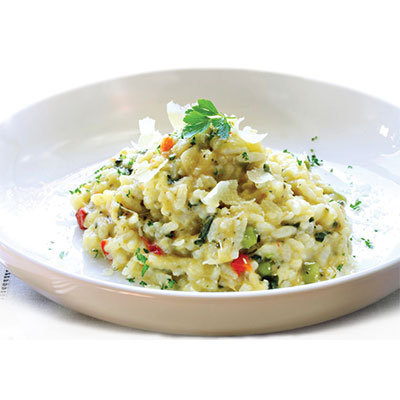 Ingredients
2 cup cooked rice, 2 packets of white button mushrooms,
cleaned and chopped, 2 tbsp extra virgin olive oil,
1 tsp roasted crushed sesame seeds,
½ tsp flex flavours dried thyme, 1 tsp flex flavour oregano,
3-4 scallions (hara pyaaz) chopped (reverse the green of garnishing),
1 tsp finely chopped garlic, ¼ tsp black or white pepper & salt.
Preperation Method
1.In a pan heat up the olive oil.
2.Add the chopped garlic.
3.After a minute add the scallions toss it for a minute and add the mushrooms.
4.Saute the mushrooms till they leave water and are dried up and completely cooked.
5.Add the black pepper, crushed sesames seeds, flex flavours dried thyme and oregano to the mushrooms, mix well.
6.Now add the cooked rice and salt.
7.Saute the rice with the mushrooms for a couple of minutes.
8.Garnish mushroom rice with the scallions greens.
9.Serve mushroom rice hot and enjoy the bowl of mushroom rice.